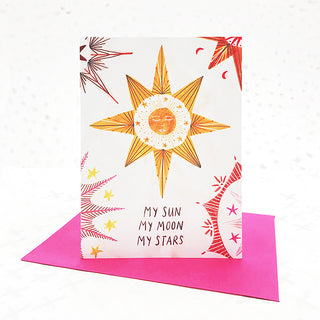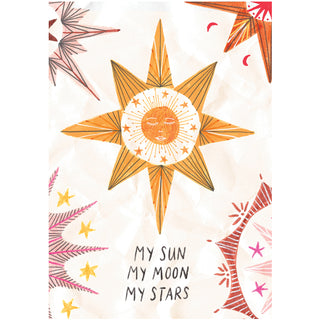 My Sun, My Moon, My Stars Celestial Bodies Greetings Card
This sweet card was designed at the same time as the Celestial Bodies limited edition collection which is a celebration of the wonder of the sky above us and a universe so vast and unknowable...
It features an original design by Lee May Foster-Wilson and has been digitally printed onto sturdy card. 

The inside of the card is left blank for your own message and it comes with a salmon pink envelope.
All Bonbi Forest cards are printed onto recycled card with a matt silk finish.

Measurements: 
Card measures A6 size which is approx 10.5 x 14.8cm folded (4.1 x 5.8").