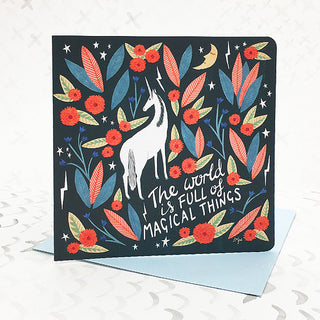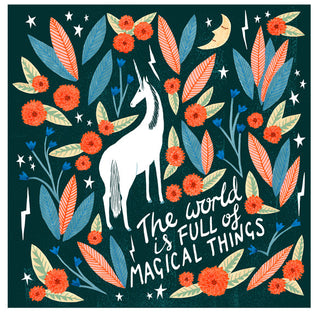 "And above all, watch with glittering eyes the whole world around you because the greatest secrets are always hidden in the most unlikely places. Those who don't believe in magic will never find it." Roald Dahl
Inspired by this quote above, imagery from medieval tapestries and icons of magic and wonder, the Limited Edition Totally Magic collection features mythical unicorns, lightning bolts and stars scattered amongst vibrant florals. They are the little bits of magic alongside our everyday lives...
A sweet greetings card ideal for birthdays, weddings, anniversaries and the like or just to wish someone well! It features an original design by Lee May Foster-Wilson and has been digitally printed onto sturdy card.

The inside of the card is left blank for your own message and it comes with a pale blue envelope.
All Bonbi Forest cards are printed onto recycled card with a matt silk finish.

Measurements:
Card measures approx 15 x 15cm folded (6" x 6").