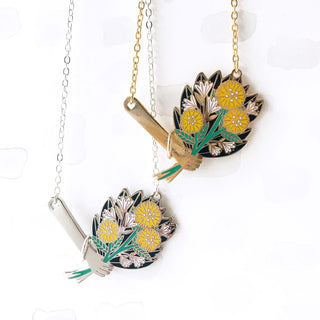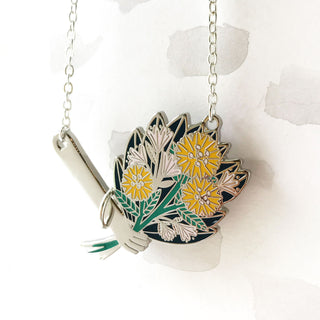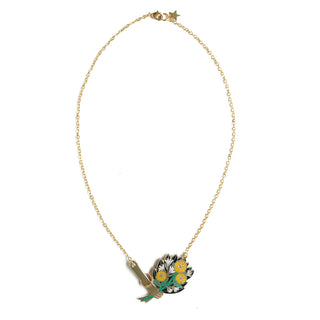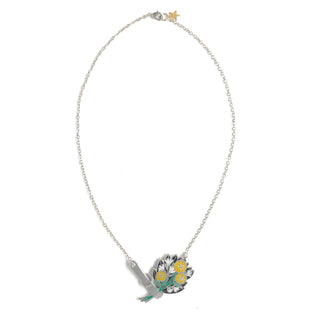 **Second!** LIMITED EDITION Floral Bouquet Necklace - Dark
These pendants are slight seconds meaning they have a few little imperfections...Some enamel in the wrong colour, a little scratch, a little patch of discoloured metal are some of the flaws you might find in the seconds, however they are all very small and don't detract from the design in any way.

AVAILABLE COLOURS:

Gold - 4 available.
Silver - 10 available.
The Flowers Always collection is inspired by the lovely quote by Claude Monet "I must have flowers, always and always" which I also subscribe to! It's self explanatory really...the presence of flowers adds colour to life, their beauty and scent brings a simple joy. This latest limited edition collection is a celebration of that and will bring some permanent floral colour to even the greyest day...
This hard enamel necklace features a hand holding a beautiful bouquet...the bearer even has a little bracelet on! The details of the bouquet are picked out in shades of sunshine yellow, darkest blue, teal green and palest pink.
Choose from gold or silver plated.
The necklace comes packaged in a natural cotton bag inside a Bonbi Forest origami pouch which makes it a lovely gift or a super sweet treat to yourself!
Measurements:
Pendant measures approx 5cm across.
The chain length is 46cm (18")