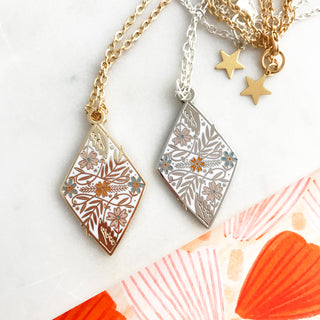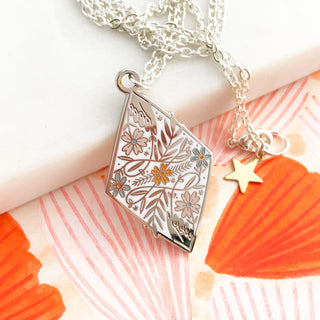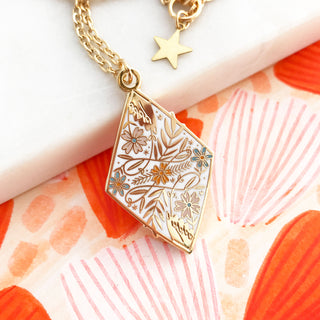 Connected Enamel Necklace - White
We are all connected! What happens in one part of the world can have an effect on all of us...

This original design by Lee Foster-Wilson highlights that fact and features two hands joined by delicate flowers and fronds...nature is at the root of this connection after all.
Available in gold or silver plate, the pendant is made from hard cloisonne enamel and the chain is a plated steel trace chain which is finished with a lobster clasp and a little brass star...choose from a shorter necklet chain or a longer necklace.
All Bonbi Forest jewellery comes packaged in a small cotton bag inside a protective printed origami pouch…perfect for present giving or for a super sweet treat to yourself!
Measurements:
Pendant measures approx 40mm from top to bottom, and choose from a chain length of 46cm (18") or 68cm (27")
Please make your chain and plating selection from the dropdown menus above.
This necklace is available in a dark blue colour way as well...See it here --> https://bit.ly/38qSkSp