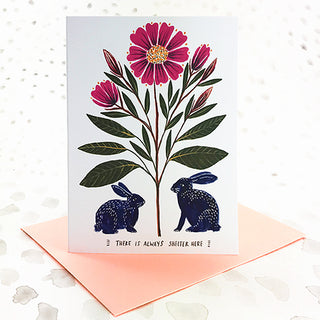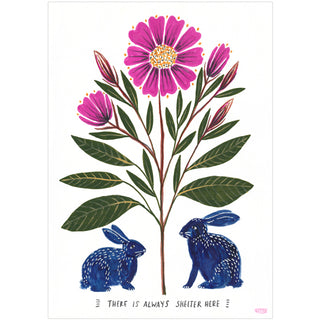 There is Always Shelter Here Greetings Card
A sweet card with comforting words and little rabbits sheltering under a flower...Designed to be given to someone having a hard time or who just needs to know they have a place of shelter with you and your friendship. It features an original design by Lee May Foster-Wilson and has been digitally printed onto sturdy card. 

The inside of the card is left blank for your own message and it comes with a salmon pink envelope.
All Bonbi Forest cards are printed onto recycled card with a matt silk finish.

Measurements: 
Card measures A6 size which is approx 10.5 x 14.8cm folded (4.1 x 5.8").